View All Specials >
Current Special
This fall, spend more time (and less money) in Playa del Carmen. From now until July 31, 2016, book seven nights at The Reef Coco Beach and get one night FREE when you stay between August 21 and November 11, 2016.

Terms and Conditions: Blackout dates are September 15-17, 2016.

Book Now
View Archive >
Staff Picks
Go Underground with Playa del Carmen's Best Kept Secret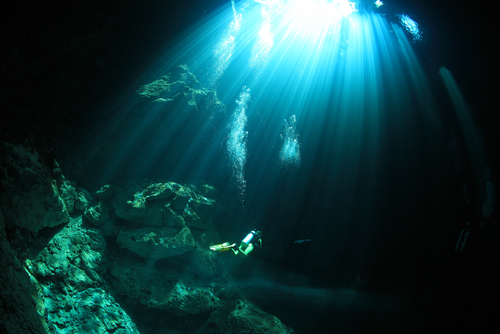 In the heat of a Caribbean summer, it's always best to find a way to cool down. Consider the spectacular underground caves of the Rio Secreto Nature Reserve, located only twenty minutes away from The Reef at Coco Beach.
The Rio Secreto Nature Reserve offers several options for those seeking a little adventure. Upon arrival, descend from the Mexican jungle into a labyrinth and embark on an underground river tour through Rio Secreto's crystal caves. Swim through clear, still waters and float beneath stalactites and stalagmites. Swing your headlamp through the dark and illuminate stunning turquoise water, ignite the hanging crystals, and learn about the history of these mystical natural wonders from your charismatic and fun-loving guide.
If you want something a little more involved, try the Nature Reserve's "Plus" option. Named the "most spectacular tour in the Mexican Caribbean," the Reserve will expand your tour to include the "Dry Route." Here, you'll visit the famous Salón de la Paz. Called the Room of Peace in English, the Salón de la Paz will dazzle you with an hour of light and sound artfully interpreting the origins and creation of the universe.
Perhaps its most unique option, Rio Secreto Nature Reserve also offers a very special tour of the Privilege caves. Allocated primarily toward scientific research and preservation, the Privilege caves are especially beautiful formations that are rarely seen by the public. Take a once in a lifetime chance to see an old and seldom appreciated Mexican treasure.
When you're done, celebrate your efforts with an authentic Mayan lunch back at the Reserve's center and head home to your hotel accomplished and inspired. If you're not too tired, finish off the day at the local market, or take a nap before heading out to experience the thriving nightlife of Coco Beach.
Address: Río Secreto, Carretera Federal Libre Chetumal – Puerto Juárez Km. 283.5, Ejido Sur, 77712 Playa del Carmen